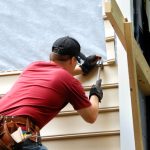 Are you currently on the hunt for a new job? Are you tired of sitting behind a desk all day and craving a more hands-on, physically rewarding career? If this sounds like you, then perhaps you should consider a roofing career as your next job. Roofing is a profession that offers a wide range of benefits and opportunities for growth. Here are a few reasons why you should choose a roofing career as your next job:
1. Job security in a thriving industry
The roofing industry is one that is consistently in demand. Every building needs a roof, and roofs require maintenance, repairs, and replacements over time. As long as people need shelter, the roofing industry will continue to thrive. This means that by choosing a roofing career, you can enjoy job security that many other professions may lack.
2. Opportunity for growth and advancement
Starting as a roofer is just the beginning of a potential life-long career in the roofing industry. As you gain experience and expertise, you can move up the ladder to become a crew leader, project manager, or even start your own roofing business. The roofing industry offers opportunities for growth and advancement, allowing you to continually challenge yourself and take on greater responsibilities.
3. Competitive wages and benefits
Roofing is a physically demanding job that requires specialized skills and knowledge. As a result, roofing companies typically offer competitive wages to attract and retain skilled workers. Additionally, many roofing companies provide benefits such as health insurance, retirement plans, and paid time off. By choosing a roofing career, you can enjoy not only a rewarding job but also financial stability and security.
4. Variety and the chance to work outdoors
If you're someone who dreads the thought of being confined to an office all day, a roofing career may be the perfect fit for you. Roofers get to enjoy the variety of working on different projects and locations. As you work on different buildings, you'll constantly face new challenges that will keep your job interesting and engaging. Moreover, by choosing a roofing career, you'll have the opportunity to work outdoors, breathing in fresh air and enjoying the changing seasons.
5. Learning valuable skills
Roofing isn't just about nailing shingles on a roof. It involves various technical skills, such as measuring, cutting, and installing roofing materials. You'll also develop problem-solving skills as you encounter unexpected issues and find solutions to ensure the roof is watertight and structurally sound. These skills are not only valuable in the roofing industry but can also be transferable to other fields, giving you the flexibility to pursue different career paths if desired.
6. Making a tangible difference
One of the most rewarding aspects of a roofing career is the tangible difference you make in people's lives. As a roofer, you provide essential protection for homes and buildings, ensuring that people have a safe and secure place to live or work. Each roof you repair or replace contributes to the overall well-being and comfort of the occupants, giving you a sense of pride and accomplishment in your work.
Summary
If you're looking for a physically rewarding career with job security, growth opportunities, competitive wages, the chance to work outdoors, and the ability to make a tangible difference, consider choosing a roofing career as your next job. The roofing industry offers a fulfilling and challenging career path for those willing to put in the hard work and dedication. So, why wait? Take the leap and embark on a roofing career today.
Need Roofing Contractors in Glendora, CA?
Since 1979, Dowd Roofing Co. has provided residential and commercial roofing, roof repair, and much more to Glendora, CA and the surrounding areas. Dowd Roofing Co. takes integrity and dependability very seriously when it comes to your projects, from whole roof replacements to storm damage maintenance. We work on asphalt roofing, concrete tile roofing, spray coating, leak plugging, inspections, and more. With over 35 years of experience, you know we are still in business for a reason, Call us today to schedule an estimate, or contact us through our website.