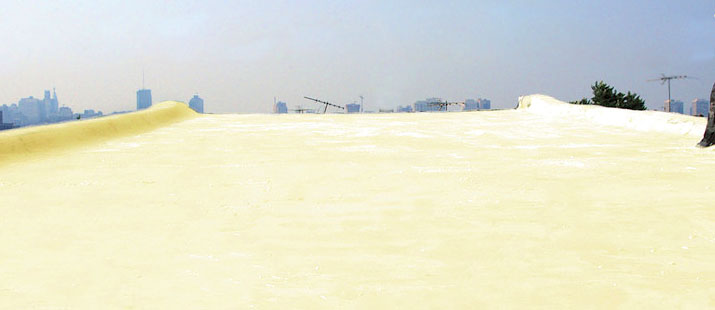 Commercial Roof Spray Coating in Glendora, CA
The cost of commercial roofing repairs can be astronomical. That's why Dowd Roofing Co. offers commercial roof spray coatings to Glendora or Azusa, CA businesses. Quickly restore the roof of your building at a fraction of the price with spray coating! Not only does spray coating address leaks, it also protects your roof from damage caused by extreme temperatures.
Stop and Prevent Leaks
There's so many benefits to hiring us to apply spray coating to the roof of your business facility. A leaky roof spray coating and stops any leaks in your roof without the arduous task of finding each one. It also prevents future leaks from developing. Furthermore, commercial spray coats protect your business from inclement weather conditions, from high winds to intense sunlight.
Easy Repair
Additionally, roofs treated with spray coats are much easier to repair than those without it. While a major roofing repair project requires a full team of a contractor, you'll never need more than three of our employees to repair any issues that arise in the future.
Improved Energy Efficiency
We don't have to tell you how expensive it is to operate a commercial facility, especially larger ones like warehouses or factories. Improving your commercial property's energy efficiency cuts your costs while providing a more comfortable work environment for employees.
Spray coating prevents heat absorption during the dog days of summer, while sealing in the warm air during the winter months. All of this amounts to less strain on your HVAC system, which means a decreased need for replacement or repair—not to mention the energy savings you'll accrue.
Save Money
Ultimately, the reason to invest in commercial roof spray coating is that it'll save you money. From decreasing energy costs to diminishing a need for extensive roof repair, consider a spray coating for your business building in Glendora, CA as an investment.
Save Your Roof with Spray Coating
Contact us at Dowd Roofing Co. at 626-857-1070 today to learn more about the benefits of spray coating the roof of your commercial building. We make leaky roof spray coating a simple, affordable proactive solution for any interested business owner. We're also available for residential roofing and Title 24 compliant roofing!