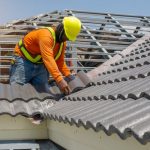 Choosing the right roofing contractor is crucial when it comes to ensuring the longevity and durability of your roof. A well-built and properly maintained roof not only protects your home from external elements but also enhances its aesthetic appeal. With so many roofing contractors out there, it can be overwhelming to narrow down your options and find the best one for your needs. In this blog post, we will discuss some essential factors to consider that can help you choose the best roofing contractor.
1. Research and referrals
The first step in selecting a roofing contractor is to do thorough research. Start by asking family, friends, and neighbors for referrals. Their personal experiences and recommendations can provide valuable insights into the quality of work and service provided by the contractor. Additionally, use online platforms to research and read reviews of different contractors in your area. This will give you a better understanding of their reputation and customer satisfaction rates.
2. Licensing and insurance
It is crucial to hire a roofing contractor who is licensed and insured. A valid license ensures that the contractor has the necessary knowledge and expertise to handle roofing projects. Insurance protects you from being held liable for any accidents or damages that may occur during the construction process. Always ask the contractor to provide proof of licensing and insurance before hiring them to ensure you are working with a legitimate and reliable professional.
3. Experience and expertise
When it comes to roofing, the experience of the contractor matters a lot. Choose a contractor who has been in the industry for several years and has a proven track record of successful projects. An experienced contractor will have the knowledge and skills to handle any roofing issue or challenge that may arise during the construction process. Moreover, make sure to inquire about the contractor's expertise in specific roofing materials and styles, especially if you have a specific preference for your roof.
4. Quality of work
The quality of work provided by a roofing contractor is paramount. Look for testimonials, online reviews, and examples of their previous projects to assess the quality of their workmanship. Additionally, ask the contractor for references and contact their previous clients to get feedback about their experience with the contractor. A reputable contractor will be confident in sharing references and providing evidence of their high-quality work.
5. Written estimate and warranty
A reliable roofing contractor will always provide a written estimate for the project before starting any work. Make sure the estimate includes a detailed breakdown of costs, including materials, labor, and any additional charges. This will help you compare quotes from different contractors and ensure transparency in the pricing. Furthermore, inquire about the warranty provided by the contractor. A warranty assures that the contractor stands behind their work and will address any issues that may arise after the project is completed.
6. Communication and professionalism
Effective communication and professionalism are crucial when dealing with any contractor. Pay attention to how responsive the contractor is during the initial inquiry stage. Are they providing detailed and timely responses to your questions? Do they show up on time for appointments? These factors can give you a sense of their commitment to customer service and professionalism. Select a contractor who communicates effectively and values your concerns throughout the project.
Summary
Choosing the best roofing contractor requires careful consideration of multiple factors. Conduct thorough research, gather referrals, and read reviews to assess the reputation of the contractor. Ensure they have the necessary licensing and insurance, as well as relevant experience and expertise. Evaluate the quality of their work through testimonials and references. Request a detailed written estimate and inquire about the warranty provided. Lastly, prioritize effective communication and professionalism throughout the project. By following these guidelines, you can confidently choose the best roofing contractor for your needs and ensure a successful roofing project.
Need Roofing Contractors in Glendora, CA?
Since 1979, Dowd Roofing Co. has provided residential and commercial roofing, roof repair, and much more to Glendora, CA and the surrounding areas. Dowd Roofing Co. takes integrity and dependability very seriously when it comes to your projects, from whole roof replacements to storm damage maintenance. We work on asphalt roofing, concrete tile roofing, spray coating, leak plugging, inspections, and more. With over 35 years of experience, you know we are still in business for a reason, Call us today to schedule an estimate, or contact us through our website.